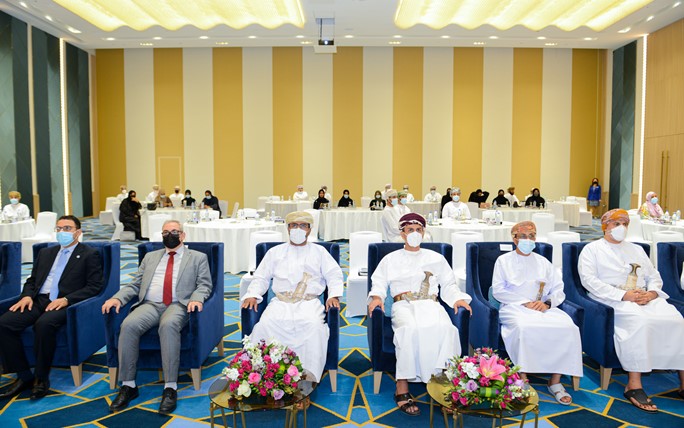 The Environment Agency, represented by the Department of Chemicals and Waste Management at the General Directorate of Environmental Affairs, in cooperation with the Ministry of Health and the World Health Organization, is organizing a national workshop on "Preparing a roadmap for the integrated management of chemicals" during the period 22-24 February 2022 AD in Muscat, Sultanate of Oman. The opening ceremony of the national workshop is held under the patronage of His Excellency Salim bin Ali bin Salim Al Hakmani, Chairman of the Consumer Protection Authority.
The workshop aims to enhance the sound and integrated management of chemicals in the Sultanate of Oman, expand partnership with government agencies and international organizations concerned with chemicals management, in addition to developing an action plan to implement a roadmap at the national level to enhance the participation of the health and environment sector in the strategic approach to international chemicals management. This is in addition to identifying the existing gaps and challenges, which helps to take clear and accurate actions by the decision maker to manage chemicals and reduce their risks, considering chemicals as one of the important elements in the daily life of society and which constitute major inputs in most industrial and development fields, to keep pace with the development witnessed by the movement economic development in the Sultanate of Oman, supporting the national economy and advancing investment, as well as raising indicators and efficiency of monitoring and control of chemicals, which contribute to achieving strategic goals in the priority of environment and natural resources, and the priority of health in Oman Vision 2040, as well as achieving the ninth goal of the third goal of sustainable development 2030, and one of The nine goals in the Arab strategy for health and Environment (2017-2030).
In order to implement the relevant global environmental agreements in an effective and accurate manner, and to enhance cooperation and partnership between government agencies and relevant international organizations in efforts to protect the environment and human health from the dangers of various chemicals, the efforts made in cooperation with the relevant authorities will be addressed during the workshop. control of chemicals, and creating the appropriate conditions to raise the level of environmental awareness, in line with international efforts aimed at achieving sound and integrated management of chemicals as a key factor in achieving the basic objectives of sustainable development in line with national legislation and international standards and obligations.
A number of international experts from the World Health Organization, specialists from the Environment Agency, the Ministry of Health, the Ministry of Agriculture, Fisheries and Water Resources, the Ministry of Trade, Industry and Investment Promotion, the Royal Oman Police, the Consumer Protection Authority, the Food Safety and Quality Center, and Sultan University will participate in the workshop. Qaboos, and other stakeholders.